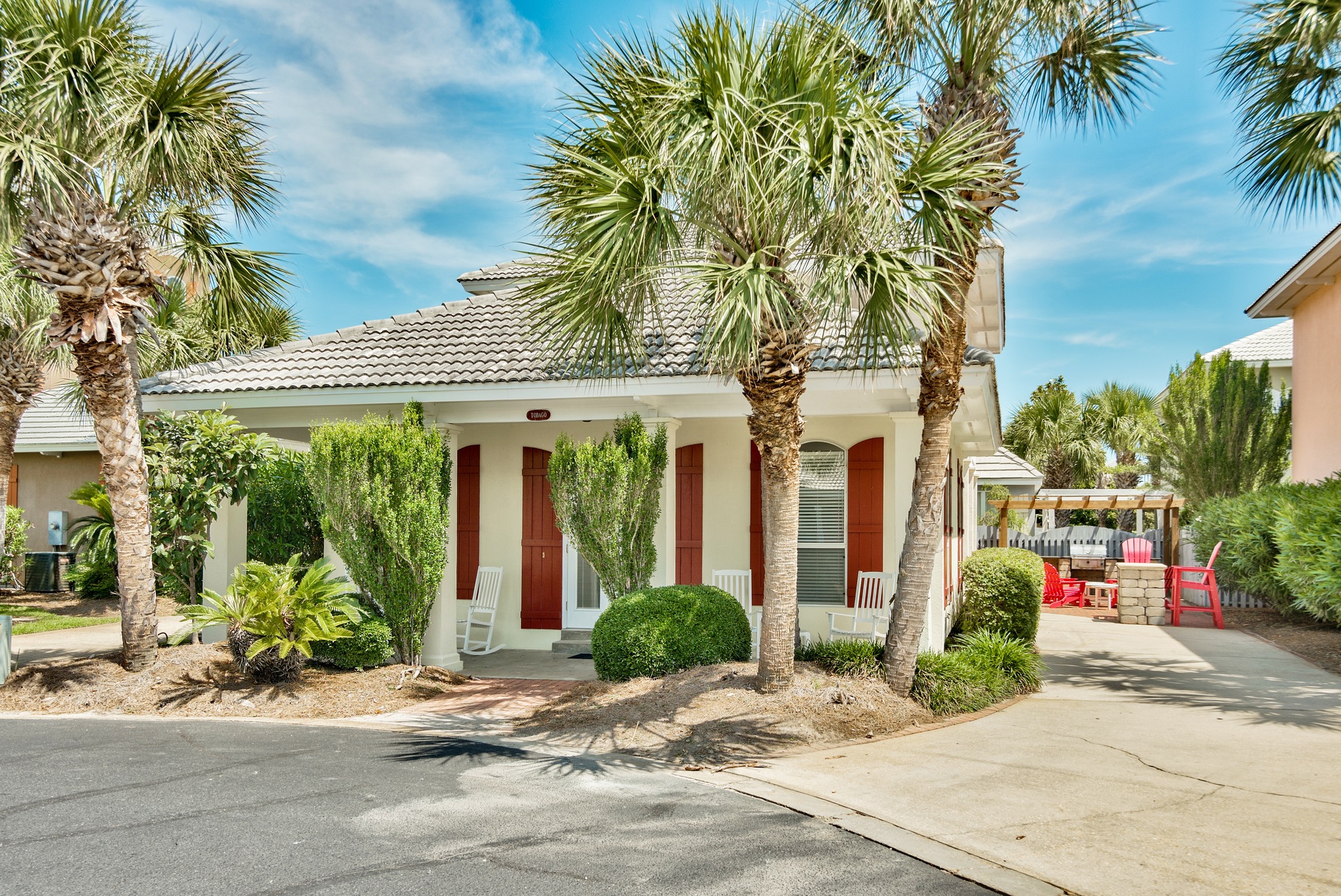 Click image to view slideshow
United States • Destin, FL House Rental
TOBAGOSUN
Description
---
You will have a great Vacation staying at "TobagoSun" in Emerald Shores of Destin Florida. This is the perfect Destin Florida Vacation House for rent. The community has 2 pools; seasonally heated, tennis courts, basketball, and shuffleboard. All gated and very well maintained and private.
The beachfront Pavilion has storage for the provided cart and bathrooms so you do not have to make a trip back to the house while enjoying a full day at the beach. We provide a cart with beach chairs, toys, and umbrellas for your convenience. We also have FREE WIFI (wireless Internet) in this unit.
NEW in 2018! All-new Master Bath! See photos!
Here is a break down on the features of this Destin Florida Vacation House:
MASTER BEDROOM: One KING size bed. It is located on the first floor with a walkout to the side covered patio for easy loading and unloading of your luggage. There is a full bath in the Master Bedroom. Sleeps 2.
KING BEDROOM: This is the second bedroom and is located upstairs with one KING bed. There is a walkout to the second floor covered deck. There is a full bath just outside this door. Sleeps 2.
DOUBLE BUNK BEDROOM: This third bedroom has 2 FULL over 2 QUEEN bunk beds and also has a walkout to the covered deck. Each Bed comes with a light, electric and USB ports. It is located upstairs too. The full bath is also just outside the door to this bedroom. Sleeps 4-6.
This Destin Florida for rent by owner home is fully equipped. The kitchen has everything you need. The laundry room has a washer and dryer, iron and ironing board. The 3 covered decks/balconies have outdoor furniture for wonderful mornings with coffee or to enjoy with friends in the evening.
Second refrigerator in the laundry room! This is a lifesaver while on vacation!
This Destin Florida Vacation House is located between the pool and the ocean. It is a short walk to either. We have tried to give you all you need for an informed vacation decision with the slide show above. We are always improving our Destin Florida Rental house. There are many things to do in Destin! We hope you enjoy your stay with us at our, Destin Florida Vacation House, "TOBAGOSUN".
Amenities
---
Wireless Internet (Wi-Fi)
Safety Amenities
---
Property Notes
---
You can book this home online here. We ask for 50% at the time of booking and the balance due 60 days before arrival. Travel Insurance is available during the booking process and is highly recommended. Click BOOK NOW to start the booking process and select your week.
---
This listing doesn't have any reviews yet. Be the first!